Garmin Hong Kong announced the VívosportTM, the smart activity tracker with ElevateTM 24/7 wrist-based heart rate and GPS to accurately track every walk, run and ride. With an always-on Garmin ChromaTM colour touchscreen display and new built-in sports apps for everything from strength training to cycling and cardio, the Vívosport is optimized for both indoor and outdoor workouts.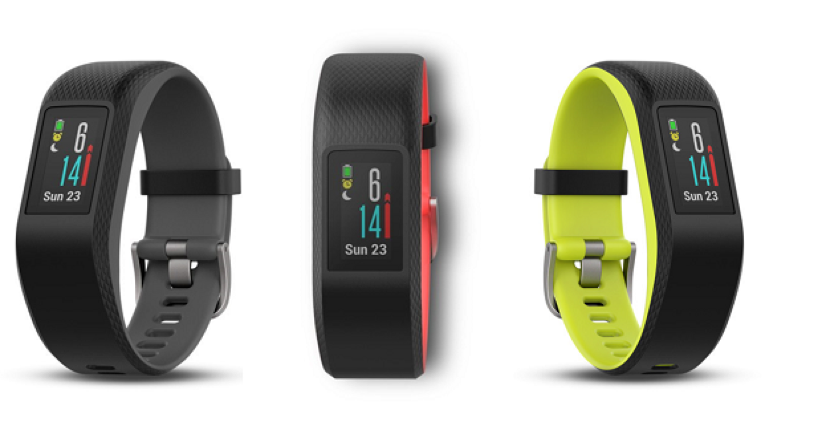 Monitor your fitness and wellness daily with fitness monitoring tool and stress tracking
The Vívosport features helpful fitness monitoring tools including VO2 max and fitness age which provide users with valuable data to monitor changes in their fitness level. The Vívosport also includes all-day stress tracking by measuring users' HRV (heart rate variability). A Four-Fold Breath relaxation timer further helps users balance stress and rest.
Enjoy the freedom to exercise indoors or outdoors with built-in GPS
Vívosport gives you the freedom to choose to do your workouts indoors or outdoors with the preloaded activity profiles. Vívosport is able to track distance, time and speed or pace and even map it out for you on Garmin Connect. Vívosport is perfect for an after work run, conquering a high-intensity interval training (HIIT) workout, or counting your reps and sets of your gym routine with automatic rep counting. Thanks to Garmin Move IQTM, the Vívosport automatically classifies multiple activities, making it even easier for users to get credit for their workouts.
Effortlessly control music, receive notifications and track your activity in real-time
Stay connected on the move with vibration alerts for emails, texts, calls, calendar reminders, app alerts, social media updates and more from a compatible smartphone. Users will also benefit from the ability to control music on their smartphone from the Vívosport, send an alert to locate a misplaced smartphone, and control a Garmin VIRB camera (sold separately).
Give loved ones a peace of mind during outdoor workouts with LiveTrack, a feature that tracks activity and location in real-time. Designated individuals will receive invitations via email, Facebook or Twitter with a link to a webpage that includes the position of the connected Vívosport device.
Share and compete with fellow fitness enthusiasts in Garmin Online Community
Throughout the day, the Vívosport automatically syncs with the Garmin ConnectTM mobile app to save stats for easy access later. In Garmin Connect, users can see their workouts, strength training activities, stress levels and sleep patterns displayed on detailed graphs. View outdoor workouts on detailed maps, compete in weekly challenges and connect with other fitness enthusiasts, right from a compatible smartphone or desktop computer.
To see what the Vívosport has to offer, visit www.garmin.com.hk/minisite/vivo/
For decades, Garmin has pioneered new GPS navigation and wireless devices and applications that are designed for people who live an active lifestyle. Garmin serves five primary business units, including automotive, aviation, fitness, marine, and outdoor recreation. For more information, follow us at facebook.com/garminhongkong, Instagram.com/garminhongkong or Youtube.com/Garminhongkong.
Go to 【Pressroom List】